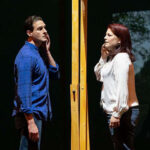 by Laura Kaminsky in "Classical Music," Wednesday, August 25, 2021 | 
My team and I often say that our chamber opera As One is a story of 'not-the-norm in getting an opera born'. It's funny, though, that for such an unusual gestation, As One has become the most produced contemporary opera in North America, according to OPERA America. Since its premiere in 2014 there have been close to 50 productions across the US, Canada, Europe and Australia. But As One has never been performed in the UK before this September, when it will headline the London Festival of American Music: one of 14 premieres in a festival set up by the pioneering Cuban-American conductor-composer Odaline de la Martinez, to promote outstanding American composers who are well established in America but less well known to UK audiences.
As far back as 2009, I was inspired by an article in The New York Times on marriage equality that focused on a transgender individual's plight. I realized then that I wanted to write an intimate opera about a transgender protagonist on a path to self-actualisation, someone seeking their truth. I wanted to compose the work for two remarkable singers, mezzo-soprano Sasha Cooke and baritone Kelly Markgraf, with whom I had recently collaborated, inspired as much by their glorious voices as by their sensitive and thoughtful souls, and from that, the notion of a single character in dialogue with their self was sprung. But I needed a specific story to tell. To begin, I needed a librettist. In fact, we ended up with two, Kimberly Reed and Mark Campbell.
I initially encountered Kimberly Reed's award-winning documentary Prodigal Sons in 2011, a raw and provocative examination of her family's struggle to come to terms with its past and present. As soon as I saw it, I said to my wife Rebecca, 'I have to find Kim; she must be involved'. I later met Mark Campbell while adjudicating grant applications at Opera America; he was intrigued and wanted to co-write the libretto with Kim.
Kim's personal experience as a trans woman served as an entry point into the story the two would write, offering them much great material from which to craft the opera's 15 short scenes. But the opera is not a biography, and Hannah's story is original. Incidents from Kim's life that were specific but had a universality to them became the foundation for our beautiful protagonist, a person embarking on a quest to find – and live – their truth.
The magic of Mark and Kim's creative interaction blows me away to this day; how, together, but separately, they were able to give such a wonderful spirit to Hannah, and to make her into such a believable and loveable character. I often wonder about how they actually wrote the libretto – I attribute nouns to Kim and verbs to Mark, but cannot, for the life of me, figure out who spawned the adverbs and adjectives.
With the mezzo-soprano and baritone sharing the one role, the opera might be considered a monodrama for two voices. Having voices in both treble and bass ranges, to explore the binary nature of the world Hannah would be negotiating, was a theatrical conceit. They would, as one, represent both the male and female aspects of the protagonist, and would, together, reveal the inner dialogue of a person seeking their personal truth.
Hannah's personality dictated the musical language. Her story is a journey, so there is 'travel' music that is propulsive and energetic, but part of the journey is ruminative and internal, so there is soulful, 'interior', reflective music, represented by a bluesy viola solo, the viola serving throughout the piece as the representation of Hannah's persona. To create an intimate soundscape, the entire 'orchestra' is a string quartet. One unusual decision was to have the quartet not only play, but also sing at times, and the music director to speak. Also recited, not sung, by 'Hannah before', is a list of names of victims of violence against transgender individuals around the world. This is an unspeakably sad list to have to include, and to have to continue to update with each performance.
Recurring motives give Hannah's odyssey a musical through-line. There are also bits of Christmas carols during the three-scene-long holiday sequence, and a snippet of Grieg heralding her decision to go to Norway to seek fulfilment. Some harrowing music supports the recitation of victims' names during 'Out of nowhere', the scene in which Hannah is attacked.
It was of the utmost importance to me that the vocal lines would spotlight the beautiful text. I wanted Mark's and Kim's words to be clearly understood, so most of the setting of the libretto is direct, with melismatic passages used only to express emotion, not to obscure the actual words.
At Mark's suggestion, we named her Hannah. Yes, it's a palindrome, and yes, the name has meaning: a feminine Hebrew name meaning 'God's gift to the world,' with a contemporary interpretation of 'favor' or 'grace.' It was Kim's idea to differentiate the two singers as 'Hannah before' (baritone) and 'Hannah after' (mezzo-soprano).
While As One was conceived originally for two cisgender singers, we became increasingly aware of the need to cast trans singers with each new production. In the early years, none included trans singers; unfortunately, the training for trans singers has been lagging. While there have been many trans individuals involved in various productions of the opera, there have yet been very few singers playing Hannah. This is beginning to change, as, thankfully, the training for trans singers is much more sensitive and sophisticated now than it was a decade ago when the idea for As One was born.
While As One was conceived originally for two cisgender singers, we became increasingly aware of the need to cast trans singers with each new production."
Wanting to actively further this positive evolution, Mark, Kim and I have inaugurated a scholarship for trans singers to receive the training and support they need as they enter the field. The idea originated with Kim, and Mark and I immediately embraced it; the public announcement of this is imminent. So much progress has been made in such a short time, for which we are so encouraged and grateful!
In the meantime, we actively seek other ways to involve the trans community, and are pleased that in London, dancer and choreographer Jarry Glavin joins Arlene Rolph and Simon Wallfisch in director Benjamin Davis's new production.
As we look forward to the LFAM production of As One, its 47th, we hope that, as has been the case over and over, from large productions in big cities to modest productions in small rural hamlets, an audience member speaks up after the show, expressing their joy of seeing a character that resonates with them affirmatively, and that offers their story on the opera stage.
The London Festival of American Music presents the UK premiere of As One by Laura Kaminsky, Mark Campbell and Kimberly Reed, a chamber opera about the journey of a transgender woman, on 15, 17 & 18 September 2021 at The Warehouse, Waterloo.