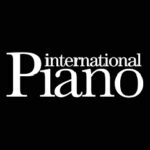 The piano music of leading American composer Laura Kaminsky is loosely tonal or modal, quirkily rhythmic with suggestions of jazz, and highly personal. It is immensely appealing yet offers a challenge to listeners.
The first movement of the Piano Quintet is "Anthem", which melds West African drumming patterns with eastern European irregular dance rhythms. The solo Fantasy (2007–10), described by the composer as "free-form yet organically conceived", recalls Copeland's Fantasy for Piano in ambition and achievement, though its fluidity echoes Elliott Carter's Night Fantasies (premiered by Oppens in 1980). In one remarkable passage, two hands play lines that are completely rhythmically disjoint.
The colorful, often fiery Reckoning Five Miniatures for America for piano four-hands, with veteran pianist Jerome Lowenthal, was written for this recording, and reflects our turbulent times. The album concludes with Kaminsky's Piano Concerto, inspired by images of sunlit rivers in New York and St Petersburg, where Oppens gave the world premiere with Jeffery Meyer. It's 21-minute single movement, with chamber-like quality, is orchestrated with gorgeous delicacy. The bitonal, opening cadenza provides the work's material.
An exciting, compelling release.