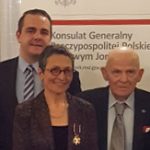 AOP Composer-in-Residence Laura Kaminsky receives gold medal of honor from the President of Poland
NEW YORK – On Wednesday, May 4th, our beloved Composer-in-Residence Laura Kaminsky was decorated with the Złoty Krzyż Zasługi (Gold Cross of Merit) of the Republic of Poland, one of the highest civilian medals awarded by the President, for her innovative presentations of Polish music in the U.S. over the past decade.
Laura's love of—and knowledge about — 20th century Polish music began in 1996 when she served as director of the European Mozart Academy, and spent a year touring around Poland and other neighboring countries in Central and Eastern Europe, presenting chamber music concerts to widely diverse audiences, reaching small villagers and leading diplomats alike. Years later, as the director of Symphony Space, Laura partnered with Ania Perzanowska, the director of music programming at the Polish Cultural Institute to incorporate music by Polish composers and performances by Polish musicians into Symphony Space programming over a period of 7 years.
Read the full story at the American Opera Projects blog