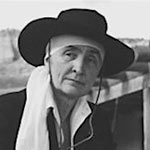 Laura Kaminsky's big-bite idea to write the score for a contemporary opera inspired by the life of Georgia O'Keeffe suits the grand genre and subject matter. It also begs a question: How to portray in music, words, and visual design the American modernist's vast vision that forever altered the landscape of visual art?
Kaminsky's answers? Seek truth, turn to collaborators you know and trust — and don't try to swallow the whole whale at once.
Opera Parallèle's ambitious new chamber opera Today It Rains will receive its world premiere in San Francisco in March 2019.
Read more ››