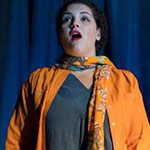 John von Rhein, Contact Reporter, Chicago Tribune
December 26, 2016
Here in Chicago there were things to regret, of course, but classical music lovers had much else to be grateful for, good things that perhaps could happen only here. To commemorate the highs and lows, we present our 41st annual Rheingold Awards. The envelopes, please:
Most arresting recent operas: Laura Kaminsky's As One, about the psychological odyssey of a transgender woman, by the alt-ensemble Chicago Fringe Opera; and Philip Glass' "The Perfect American" (Walt Disney through a Glass darkly) and Stewart Copeland's surreal "The Invention of Morel," both of them by Chicago Opera Theater.